Purpose
We develop MiiL (Medical Image Illustrator) to help users see the unseen, and provide many image processing and visualization functionality. Users can play with these tools similar to the interaction style of the popular image editing software and explore the data.
MiiL is a medical image visualization system for diagnosis and surgical planning. This software reads the DICOM images directly and perform semi-automatic segmentation, measurement and other image adjustment processes. In the post-processing stage, it allows users to visualize the volume data with transfer function adjustment to highlight the image feature. MiiL lets the medical staffs interactively manipulate the data and provide visual effect that helps the communication between the patients and doctors.
We want to develop a medical image visualization system that allows the medical staffs to use the software on PC for diagnosis, training, surgical planning and even research. This system must have some friendly and familiar user interface without sacrificing its performance and extensibility.

Our team, Visualization and Interactive Media Lab (VIML), create the program – Medical Image Illustrator (MiiL), which is based on our 3D VR Engine library.
Functionalities

Data Import/Export

Image formats: DICOM, TIFF, JPEG, BMP
Support DICOM slice sorting, automatic orientation correction.
DICOM tag editing

Data Manipulation and Filtering

Handling both 8 bits/16 bits images.
Filters: Sharpness, Gaussian Blur, enhance Detail, Enhance Focus, Laplacian, Window Level, Brightness / Contract, Equalization, K-Means Clustering, Gradient, Noise Reduction, Edge Detection, Level Set
Mask cropping
Region Labeling
Cropping
Re-sampling
Arbitrary arithmetic operations

Volume Rendering

High quality pre-integrated volume rendering by graphics hardware
Interactive manipulation of transfer function
Composition of multiple transparent volumes

Viewing & Navigation

Slice Viewing with Zooming.
Matrix Viewing.
3-axis Viewing (Sagittal, Coronal, Axial).
DICOM Tag Viewing.
Support for stereoscopic viewing.

Data Analysis

Histogram analysis.
Probing of data values.
Measurement of angles, distances, areas, volumes.

Image Segmentation

Segmentation by Mask.
Brush tool (painting) with Undo.
Automatic Mask Generation by threshold/histogram in 3D.
Magic wand (region growing) in both 2D (slice by slice) and 3D.
Mask smoothing ,island removal in both 2D (slice by slice) and 3D.
Arbitrary arithmetic Mask operations in 3D.
Maximum mask region pick up.
Mask mapping between multiple 3D image sets.
Mask loading and saving.
Semi-automatic segmentation for Lung.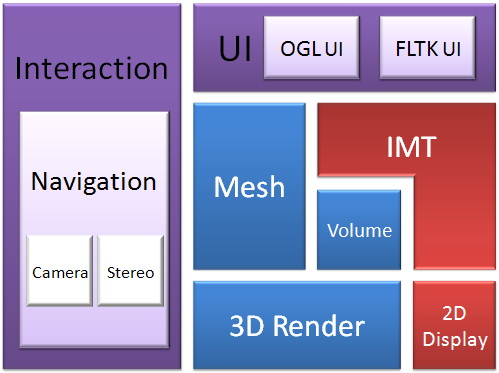 Files download
Download
Release Note
MiiL3.0.0518: (2012/05/18)

Solve volume rendering problem on WinXP 32/64, and Win7 32

MiiLViewer 0.01.0518: (2012/05/18)

Solve default folder problem
Support Chinese folder

MiiL3.0.0412: (2012/04/13)

Add Intensity Avg. of Volume/Area in "Volume Size UI"
Saving xml modification for MiiLViewer
Volume Renderer Bug fixed

MiiLViewer 0.01.0307: (2012/04/13)

Directly loading MiiL Saved xml file to render the processed objects
Renderer Bug fixed
System requirement
Operation System

Windows 7 / 8 / 10 / 11 x64
Linux 64bit

CPU: x86-64, AVX
Graphics Card: OpenGL 2.0 for visualize with volume rendering
Tutorial
Tutorial Video: course page
教學影片請參考課程頁面。
Certificate of Completion(國網中心授權醫研雲集)
藉由醫研雲集公司的推廣,有多家醫護教學單位與醫療院所,表達需要專業 MiiL 與 VR 的軟體使用專業訓練課程。在 2019 年 3 月推出教育訓練與研習營課程,經過醫研雲集專業課程訓練後,獲得國網中心授權頒發證照,以玆認證 MiiL 與 VR program。
MiiL & VR 套裝性軟體認證查詢網頁:http://www.medicloud-ms.com/license.php